I don't think I am a mean person…  Mean as in niggardly, penny-pinching, close-fisted. I have no problem in splashing out on expensive dinners, face creams, presents for those I love , must-have design items, but I am a miser when it comes to certain things.
I absolutely detest having to pay for bags in shops. I will go out of my way if I can avoid a short taxi journey (granted I have no great experience with Amsterdam taxi drivers- they are rude, will take longer routes and overcharge you with a big smile) and unless it is bucketing down, I prefer to walk. I hate having to pay for a bottle of water in a restaurant and to be told "we don't have tap water " …in a restaurant really? I am also very susceptible to buying more than I need, if by doing so I can avoid delivery charges for online purchases. I drive myself crazy browsing an online shop just to find extra items to make up the amount which is needed to get that desirable 'free delivery' at the check out.
I like to think I am not alone in this crusade to avoid ridiculous or unnecessary charges.
When it comes to design it's a whole different ball game for me. I will spend what I can afford at the time – even if the item might not justify the quoted price. But I must say I am a bit awkward when it comes to styling an interior as I also like to add fairly cheap High street items and flea market finds. It makes an interior far more interesting to mix and match, to be individualistic and not to purchase everything from high end designers, or brands. I have been a bit snobby about one particular store which – I have to admit – hasn't always been fair. The brand I am talking about is Ikea.When done with style and sophistication this brand can help tie everything together or add a bit of quirkiness to an interior. The key is to "make it your own" – preferably do a make over of the item – or if not possible place the item in an unlikely interior.  Below pictures are of interiors which have used an item from Ikea and have done it with style!
Have a look at below pictures and see if you can tell which items are the Ikea ones.
Photo 1: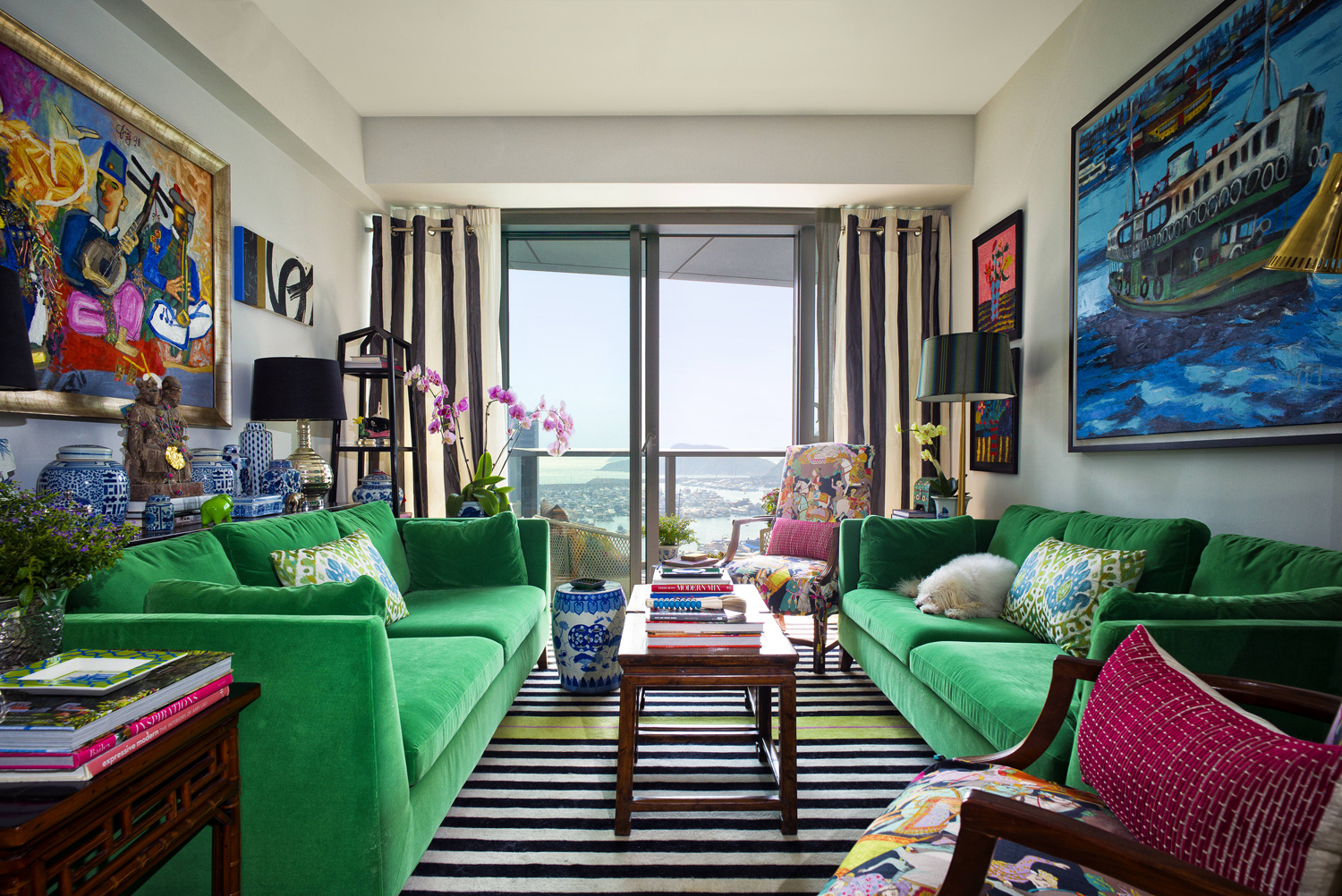 Photo 2:
Photo 3 & photo 4:
http://www.designsponge.com                                        Happy Mundane
Photo 5:
http://www.quintessenceblog.com
Photo 6:
So here are the answers, did you get them all?
Photo 1:
The fabulous emerald green sofas are the Ikea items. Teamed with pops of pink, colourful artwork and great accessories. A very inspiring room.
Photo 2:
The stylish interior with some vintage, art deco and antique items – looks chic and sophisticated. The Ikea rug ties everything together.
Photo 3:
The dark interior is lifted by some fun accessories, one of which is the white wire basket from Ikea!
Photo 4:
The bedside table has had a fabulous make over and painted in bright pink. A great example of "making the Ikea bedside table your own"!
Photo 5:
A more classic but beautifully styled interior. It is therefore quite surprising to know the rug is from Ikea!
Photo 6:
Powdery pinks and gold tones make for a striking interior. A simple sofa dressed with more exclusive cushions. In this photograph the sofa is from Ikea!
Cheap sophistication can work!